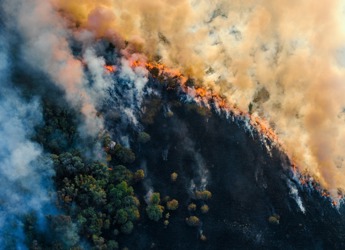 Authored by Sara Weathers
A recent study published in the journal Nature has quantified the empirical relationships between temperature and the risk of extreme daily wildfire growth in California. According to an Insurance Journal article, the findings reveal a direct link between climate change and an increased risk of extreme wildfires, with temperatures playing a pivotal role. The study notes that climate change primarily affects wildfire risk by influencing fuel moisture levels.
The research examined historical wildfires in California from 2003 to 2020 under varying climatological temperatures and aridity conditions. The results show that, on average, climate change has led to a 25% increase in the expected frequency of extreme daily wildfire growth compared to preindustrial conditions. While the impact of global warming varies depending on specific conditions, the study underscores the role of climate change in exacerbating wildfire risks.
The deadly wildfires in places like Maui, Hawaii, and Paradise, California, have served as stark reminders of the increasing wildfire risks associated with climate change. While these incidents have been attributed to electric lines in some cases, power companies across the United States have been slow to address the escalating threat.
The number of people in the US exposed to wildfire risk has doubled in the past two decades. However, many utilities have been lethargic in responding to the growing risks, often delaying necessary actions while seeking regulatory approvals to recover costs associated with mitigation efforts.
Utilities operating in heavily regulated environments have historically focused on maintaining reliable power delivery while meeting energy policy requirements. Their business models prioritize capital spending for profit but treat maintenance work, including vegetation management and infrastructure upgrades, as operational costs that can reduce earnings.
The consequences of this approach have been dire. Wildfires are becoming more frequent and intense, with changes occurring more rapidly than anticipated. Regulators and governments have also struggled to keep pace with evolving conditions. Even mapping power lines in high-risk areas took a decade to complete after San Diego Gas & Electric's power lines sparked major fires in 2007.
As climate change intensifies the threat of wildfires and other natural disasters, utilities, regulators, and governments must urgently adapt to mitigate risks and protect communities. This requires a shift in focus from profit-driven capital spending to proactive maintenance and infrastructure improvements.
Businesses also need to take proactive measures to ensure they're prepared for the effects climate change could have on them. Property insurance and liability insurance will play crucial roles in managing the financial repercussions of these disasters and incentivizing proactive risk mitigation measures.
Have questions about your property and liability insurance policies? AdvoCap Insurance is here to help.
Photo Credit: dedmityay, 123rf.com